Community Redevelopment Creation, Support & Facilitation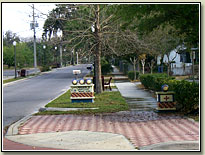 LPG Urban & Regional Planners, Inc. has significant experience in the creation, support, and facilitation of Community Redevelopment Areas (CRA) that are compliant with Florida Statutes Chapter 163. A CRA provides guidelines for revitalization within a Community Development Area. LPGURP will help to identify areas in need of revitalization within a municipality that would benefit from being within a CRA. LPG can conduct visioning and consensus building meetings to obtain input from elected and appointed officials, as well to obtain input from the public. LPG Urban and Regional Planners, Inc. can assess the current conditions within a community including factors such as the general demographics, existing zoning and land use patterns, and areas of deterioration.
LPG Urban and Regional Planners, Inc. can prepare a Finding of Necessity that would include the identification of areas that would be deemed as slum or blighted by the State. These issues can include roads with inadequate right-of-way, areas of the community with inadequate or deteriorated sidewalks, inadequate pedestrian ways, underutilized community properties, areas in need of bike paths. Inadequate or excessive streetlights, transportation needs, stormwater improvements, areas in need of historical preservation, under represented zoning and land use categories, areas in need of central water and sewer systems, areas lacking adequate fire hydrants, and areas in need of architectural design standards can be identified. The Finding of Necessity can also include the identification of areas in need of appropriate housing that would be used by residents of low or moderate income. To aid in this analysis, LPGURP can prepare reports pertaining to the taxable value of land within the community as well as preparing a vacant lands analysis. All analysis can be illustrated on a map by use of Geographic Information Systems.
LPG Urban and Regional Planners, Inc. can assist the municipality in prioritizing needs, creating an annual CRA budget, and creating redevelopment incentives that will aid in the economic development of the community. LPG Urban and Regional Planners, Inc. can prepare both residential and commercial architectural design standards that suit the individual needs and taste of a community. In addition, LPGURP can make any edits to the Land Development Regulations or Comprehensive Plan that might be necessary in order to further the vision of the CRA.
LPG Urban and Regional Planners, Inc. involvement with Community Redevelopment Areas has extended beyond the creation of the CRA Plan and has included the procurement of easements on private property for the purpose of relocating utilities underground. LPG Urban and Regional Planners, Inc. has also worked with municipalities that desired to redevelop and create parks within their CRA. This included community meetings, site analysis, park design, stormwater analsyis, cost estimating for construction and plant material, amenity and hardscape selection, plant selection, and irrigation design.
LPG Urban and Regional Planners, Inc. has assisted Community Redevelopment Agencies in obtaining funding alternatives to initiate projects within a CRA. LPGURB offers assistance in leveraging the Tax Increment Financing (TIF) fund so that the highest possible yield for each dollar is earned.