Private Land Development Support Services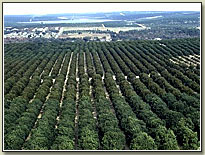 LPG Urban & Regional Planners, Inc. offers support to developers in many facets of the development process from initial land location to final development approval. LPG Urban & Regional Planners, Inc. can provide services such as property location, site, vegetative, access, amenities, and utilities analysis. LPG Urban & Regional Planners, Inc. understand the application process and have the experience to successfully determine which applications are needed to realize the client's vision and guide them through the development review process. LPG Urban & Regional Planners, Inc. can prepare preliminary development sketches, yield analysis, preliminary development plans, and site plans. LPG Urban & Regional Planners, Inc. can also represent the client at public meetings and coordinate with other design professionals.
LPG Urban & Regional Planners, Inc. will provide assistance in locating of a parcel or parcels of land that meets the clients needs based on any criteria. Land can be targeted using demographic, geographic, entitlement, transportation, structural and physical features.
LPG Urban & Regional Planners, Inc. can perform a site analysis of a parcel of land. The site analysis would include a site visit and research in house using many sources of information. Some of the site features to be analyzed will include FLUCCS, topography, soils, FEMA flood, wetlands, location, vegetation, access, circulation, amenities, solar orientation, views, and utility availability.
Location analysis includes adjacency to transportation corridors and the property location as it relates to political jurisdiction and the attendant regulations and adjacency. This analysis would include zoning and land use designation.
Vegetative analysis looks at plant material on site that is required to be preserved or can be used as a feature to enhance the value of the property in a developed or undeveloped state such as large or unusual specimen trees or other unusual plants. Vegetative communities are identified that will require preservation or mitigation or inclusion in the design as features.
Access to the site will be analyzed to determine the safest point for ingress and egress. This determination will be made by analyzing the site distance on the adjacent roadways and topography. Legal access will also be verified to determine it a public street or easement connection is adequate to support the proposed use.
Amenities are identified such as water frontage, open pastures and wooded areas noted to be used in the preparation of the preliminary development plan.
The availability of utilities is of critical importance in today's development climate. LPG Urban & Regional Planners, Inc. will determine the location and distance to utility services. This information can be used to determine the development potential of a parcel of land.
The preliminary yield analysis examines the subject property as it relates to the clients needs and the development regulations that are enforced by the applicable government with jurisdiction. LPG Urban & Regional Planners, Inc. can create a map what will show any portion of the subject parcel that are determined to be un-developable because of setbacks, density or other criteria such as buffer areas, parking, impervious surface ratio, floor area ratio and other limitations. Close examination of these criteria allows LPG Urban & Regional Planners, Inc. to maximize the yield of a particular parcel.
The preliminary development plan will depict a general layout of the desired development on the site. This plan will be used to determine proper adjacencies and interrelationships between uses and natural features on the site. The Preliminary development sketch incorporates all of the significant features identified in the site analysis and incorporates them into the site design. This development plan can be submitted to the municipality or county for consideration by the various reviewing and governing committees.
LPG Urban & Regional Planners, Inc. can represent the developer at the various stages of review. Meetings commonly attended include Development Review Committee, Planning and Zoning, City Commission, Board of County Commissioners. LPG Urban & Regional Planners, Inc. can also represent our clients in other public hearings as requested.
LPG Urban & Regional Planners, Inc. can coordinate with civil engineers, structural engineers, traffic engineers, architects, landscape architects and other design professionals to prepare for the client documents such as Preliminary plat, Final Plat, Construction Plans, Site plans, Landscape Planting and Buffer Plans, Irrigation Plans, and Architectural Plans.